No Hands SEO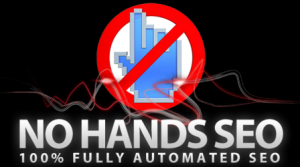 No Hands SEO is an all in one automated full website promotion tool which takes all of the hard work out of SEO.
If you are new to SEO or just spending far too much time promoting your websites via contextual backlinks, RSS submissions, article posting, sitemap submissions and more then No Hands SEO could be the perfect tool for you.
SEO beginners will appreciate the easy Setup Wizard that will take all of the headache out of setting up this powerful tool, answer just a few simple questions to have the whole thing setup with all of the most efficient settings possible.
SEO Professionals or those more familiar with SEO software will appreciate the numerous advanced settings and integrations that can be tinkered with to use your favourite indexers, spinners, captcha solvers, proxies and more.
Automatically posting your website's inner pages to more than 80 link platforms and support for spinning wherever possible ensures that your link profile will have as little footprint as possible so that your link pattern looks as natural as possible. This is key to a successful SEO campaign for sustainable results. There are also many built in features to help to create a more natural and random looking link pattern that are still not included in any other backlinking software.
Some of the types of backlink platforms used by NHSEO are shown below:
Blogs
Forums
Wiki
Article Sites
Microblogs
Link Shorteners
Guestbooks
Image Galleries
Regular RSS feed submission
Sitemap submissions
Services that can be integrated with No Hands SEO to get more from the tool:
Captcha Solvers
Captcha Sniper
Captcha Breaker
Death by Captcha
Image Typerz
De-Captcher
16 in total
Link Indexing Services
No Hands Indexer
No Hands Pinger
Linklicious
Indexification
Lindexed
9 in total
Text Spinners
Spinner Chief
Chimp Rewriter
Spin Rewriter
The Best Spinner
Proxies
No Hands Proxies
Other Proxy Software
Private Proxies (recommended)