Easy Expired Domains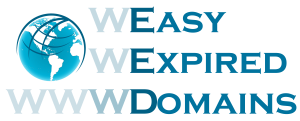 Easy Expired Domains is a brand new powerful software for very quickly and easily finding great expired domains with a given keyword in it. If you are looking for great expired domains and are tired of paying through the nose with a reseller you can now find your own without any fuss.
What makes Easy Expired Domains so easy?
Without wanting to sound repetitive Easy Expired Domains is built from the ground up to be as easy to use as possible.
EED requires no complicated setup, no third party services or software to use to it's fullest and can also return domains within seconds, each search could bring back thousands of domains containing your keyword within such a short amount of time.
Prior to EED you would need to be spending hours on scraping websites or performing manually intensive availability checking but this is not necessary anymore, all thanks to EED.
EED really is revolutionising the expired domain and domain trading market making the barrier to entry for most users much lower.
Below are some of the more notable features of EED:
No 3rd party services or software required
No Setup Needed
14million+ domains to search through
Majestic stats for all domains
Moz stats for all domains
Very fast results
More than 700 TLDs to choose from
Filter by website category
Tons of filters to find only the domains you want
Amazing support
Unlike more professional expired domain crawling software suites such as Domain Hunter Gatherer Pro, EED is incredibly simple with no extra costs involved with finding expired domains with your desired keywords, you could literally be finding hundreds or even thousands of dropped domains within a few minutes of being signed up.
If you are new to the domaining business and are unsure of how to use the complexities of setting up more advanced domain scraping tools you will surely like Easy Expired Domains that will put the power of millions of domains at your finger tips at a small cost.